All-in-one IP Audio Solution for everything you need about IP voice
ZYCOO IP Audio Solution is an all-in-one IP audio communication system primarily based on SIP, streaming media and MQTT IoT technologies. Our solution provides public address, intercom, IP telephony plus IP audio communication features. SIP is the protocol used for IP audio endpoint registration, SIP paging, intercom calls, IP phone calls etc, while streaming media is used for background music broadcasting, scheduled broadcasting, emergency alarm broadcasting, automatic broadcasting etc. Finally, MQTT technology is used for centralized management of all IP audio endpoints.
The entire solution architecture is based on a combination of software and hardware components. Software components include the IP Audio Center, IP Audio Dispatch Console, IP Audio Dispatch App. While network speakers, SIP safety intercom, SIP paging gateways and IP phones are all hardware based. Below is a diagram detailing the basic architecture of the IP Audio Solution.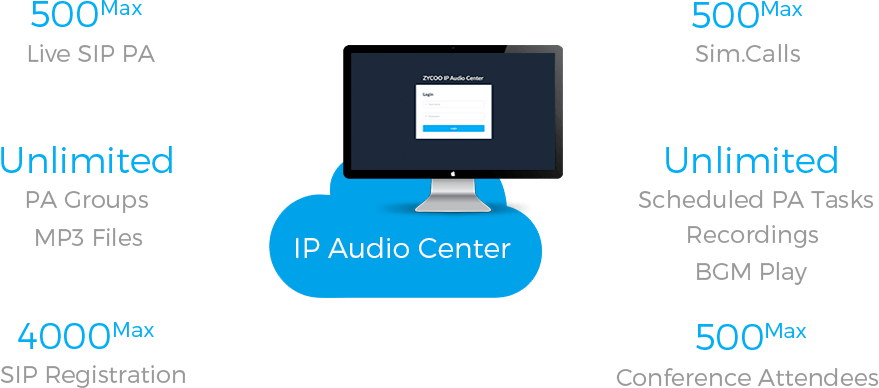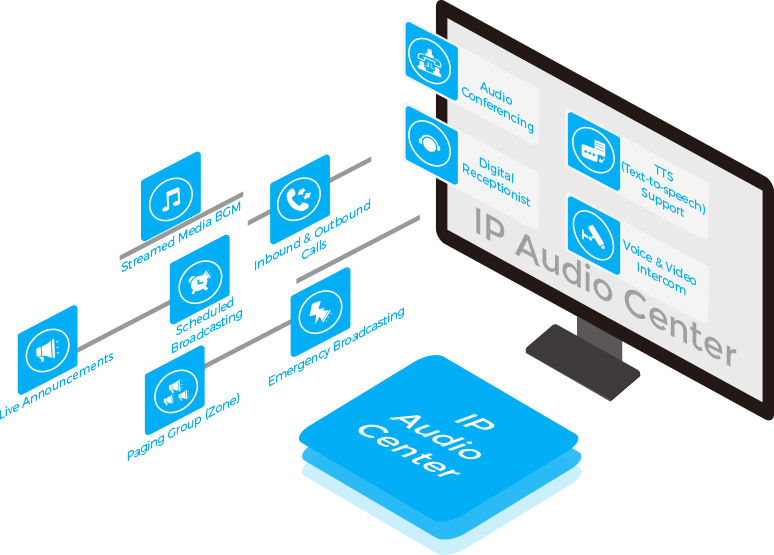 Features
Scheduled Paging
Automatic Paging
Emergency Paging
Alarm Paging
Live Announcements/Paging
Prerecorded Message Paging
Text-to-Speech Paging
Zone-based Paging
Paging Group (Zone)
Background Music
Streaming Media Music
Paging Beep
Voice Intercom
Video Intercom
Call Forward
Call Transfer
Call Spy
Barge Spy
Whisper Spy
Call Split
Wakeup Call
Audio Conferencing
Do Not Disturb (DND)
In/Outbound Call Control
Auto Receptionist (IVR)
Customized IVR Prompts
Video Call
SIP Trunking
SIP Paging Recording
Conference Recording
Intercom Recording
Call Recording
System Logs
Call Logs
Volume Control
Multiple Dispatch User
Multisite Support
Endpoints Status Monitoring
Centralized Management
Device Fault Report
Device Location Mark
API Support